How the Know Your Worth ("KYW") Course Works:
You need to know: You're so worth it.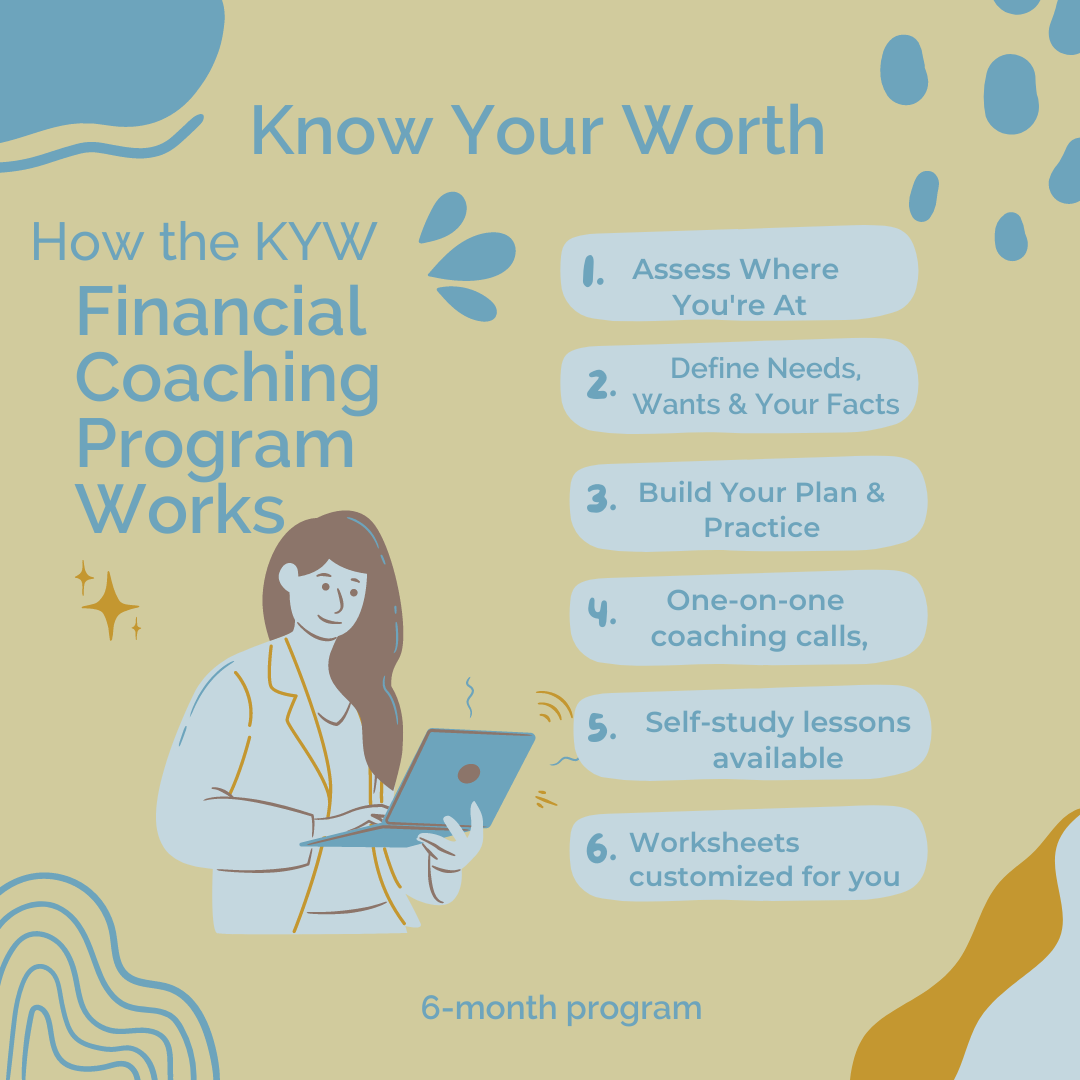 This program is designed to help elevate your financial confidence, turning any stress about money into strength. How?
First, we partner in a coaching relationship. That means I'm here to guide you to elevated places by understanding your own wisdom and values. As a CPA ("Certified Public Accountant"), Tax Advisor, and Teacher - I help you build routines that give you the ability to walk away from our work together saying "I'm good with money." And how do we do that?
Assess: Do you Love Yourself? I'm serious. How would you answer that? If you don't, it will be more difficult to build wealth. We need to address this core point first or the work we do together will be much more challenging. Let's find out what you love about your life today and what really matters to you. 
(I find you very lovable, btw). 

Define:  What does your financial picture look like today? We can't direct forward movement if we don't start by exploring the current situation. I will assist you in completing basic personal finance calculations and evaluating what's working and what isn't to make your future practice easier, more effective, and even (gasp!) enjoyable.




Connect: Are you ready to chat weekly or monthly? Zoom calls will be scheduled depending on which cadence you prefer. During these calls, I will support you in both addressing whatever is most urgent or necessary and building a plan for ongoing, long-term success.




Homework: What you put into this is what you get out of it. Between our scheduled connections, you'll have follow-up actions to complete. If you get stuck and can't complete your HW - no sweat. We'll tackle your biggest pain points during our live sessions. Doing the work between calls gives us the opportunity to run at a different pace, so it's always something I'd recommend. After all, this program is designed to empower your own practice, without me. But in the meantime, we'll level up together.




Future Plans: By the time we are done, you'll have templates and worksheets that cater to your unique needs. I'm here to help you design your own customized system for easy, efficient, recurring practices that are designed for you to hit your financial goals for years to come! 



Once you've been a student of my program you will forever be a KYW Alumni! I'm available for ongoing support and have more advanced services available to those who have completed the course or already have a trusted system and plan but still need guidance.

If you have questions, or you're ready to begin, send me a note on my connection page with the button below.  
Connect with Balanced Practice